Visiting Slavia Prague football match
Term of match
You can find fixtures here. Matches can take place from Friday to Monday and the exact term is confirmed approximately 3 weeks before the match according to TV choice of the match.
Tickets
Eden Stadium has capacity of 19 370 spectators. Home matches are not sold out, only with the exception of derby against Sparta Praha. Tickets are in general available for purchase one week before the match online at ticketportal.cz, where you can switch to English version. You have to register before ordering. There is also available the possibility of buying tickets for children up to 15 years or VIP club seats. Ticket price varies from 210 to 890 CZK in accordance to the chosen sector and the rival team.
You can buy tickets one week before the match in a city center at Ticketportal, Politických vězňů 15, Praha 1. Openning hours: Monday – Friday 10 – 17.
During the week preceeding the match there is a ticket office open at the Eden Stadium near the entry No 4. You can find openning hours and contacts here.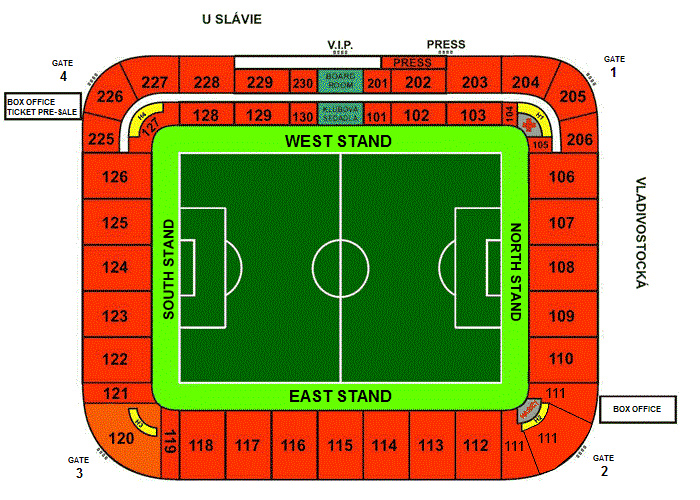 Sectors on the North stand 106 – 110 are dedicated to Slavia ultras and supporters – do not expect to get the seat indicated on your ticket in these sectors. Also do not expect to sit during the match, fans at this stand are standing all the time.
Arrival to the stadium
Eden Stadium is located 20 minutes from the city center. It is accessible by trams and buses. Bus and tram stop is called Slavia. You can easily find connection at http://www.dpp.cz/en/
Accommodation in Eden
Eden Stadium offers an opportunity of staying directly at the stadium in Hotel Iris Eden. A couple of rooms have windows directly to the playground, try to ask for them upon your reservation.
Stadium guided tours
Slavia has a beautiful Museum which is located at Sinobo Stadium. Guided tours are available, you can purchase ticket online. More information concerning ticket price, opening hours and details of tours can be found here.
Fanshop
Official fanshop of Slavia Prague football is located directly at the stadium and there are not any other shops in the city center. You can find openning hours and contacts here. On a matchday fanshop is open until the beginning of the match and after the match again. If you wish to purchase Slavia traditional red and white Jersey with red star with the printings of your name or some of Slavia players, you can order it one week before the match at fanshop eshop and then collect it on a matchday.
Entry to the stadium
The stadium is open at least one hour before the match. Visitors are not allowed to bring any glass, bottles, sprays, umbrellas, pets, alcoholic drinks, baggages and other objects that could serve as a weapon. There are no luggage lockers at the stadium. Drunk people may not be allowed in the stadium. As soon as you leave the stadium, there is no chance to return.
If you want to check other visitors´opinions on visiting Eden Stadium, check Tripadvisor.
Possibilities of refreshment
You can buy refreshment such as nonalcoholic beverages, usually nonalcoholic beer, hotdog, sausage or pretzel in the stadium. Just across the street is a huge shopping center, where you can find fastfoods, pizzeria, KFC or Bageteria Boulevard as well as supermarket Tesco. At the stadium there is also McDonalds and pub.